Flexible Vibrator Shaft and Vibrator Head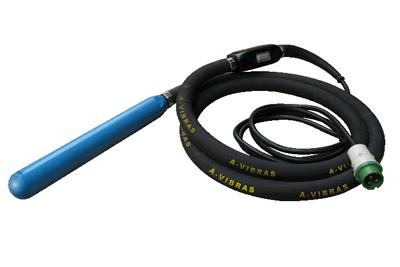 The ZDN series vibrating poker head with flexible shaft can be plugged into electronic frequency invertor or mechanical frequency converter through connectors. The overall structure is compact, so that this vibrating poker head with flexible shaft is suitable for internal vibration and compaction of various types of fresh concrete. With feature of low noise when working, the poker head can adapt to different working conditions, such as construction at night.
The vibrating poker head diameter is less than 70 mm, which is suitable for some small engineering.
The eccentric shaft structure of this vibrating poker head ensures that the vibrator can start its vibration without slipping.
The head cap and outer casing are all made of high-quality carbon steel and treated by heat treating process to ensure its longer service life.
| | | | | | | | |
| --- | --- | --- | --- | --- | --- | --- | --- |
| Model | Poker head diameter (mm) | Poker head length (mm) | Weight (kg) | Current(A) | Amplitude (half value) (mm) | Amplitude (total value) (mm) | Centrifugal force (kN) |
| ZDN35 | 35 | 352 | 10 | 8 | 0.9 | 1.8 | 1 |
| ZDN45 | 45 | 368 | 12 | 11 | 1 | 2 | 2.6 |
| ZDN50 | 50 | 390 | 13 | 12 | 1 | 2 | 3.5 |
| ZDN60 | 60 | 436 | 16 | 16 | 1.1 | 2.2 | 4.5 |
| ZDN65 | 65 | 398 | 17 | 22 | 1.2 | 2.4 | 5.5 |
| ZDN70 | 70 | 513 | 20 | 25 | 0.8 | 1.6 | 5.8 |
Flexible Shaft Length: Standard 5m (other length is also available)
Cable Length: Standard 10m (5m, 15m optional)