Single Phase Electric Motor, Concrete Vibrating Motor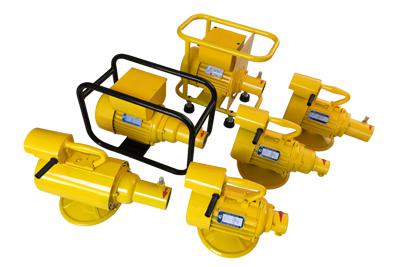 The single phase electric motor is applicable to pendulum concrete vibrator which is mainly used for internal vibration and compaction of fresh concrete.
This single phase electric motor is compatible with ZN series, JKV series and RV series pendulum vibrating poker heads and shafts, resulting in an excellent compacting effect and high working efficiency, and it is especially suitable for construction occasions where the only single phase power supply is available.
Note: Other couplings can be customized.
110V Single-phase electric motor
Model
Coupling Type
Voltage
Frequency
Power (kW)
Power (Hp)
Speed under 50Hz(rpm)
Speed under 60Hz(rpm)
Weight(kg)
Dimensions L×W×H(mm)
ZN50Ⅱ-D
A-VIBRAS Coupling B
110V
50/60Hz
1.45
2
2850
3450
17.5
410×270 ×360
ZN50DSC
A-VIBRAS Coupling B
110V
50/60Hz
1.6
2.2
4000
4000
7 kg
390×208×208
ZN70Ⅱ-D
A-VIBRAS Coupling B
110V
50/60Hz
1.9
2.5
2850
3450
22.5
415×270 ×375
ZN50AⅡ-D
A-VIBRAS Coupling A
110V
50/60Hz
1.45
2
2850
3450
17.5
410×270×360
ZN70AⅡ-D
1.9
2.5
22.5
415×270×375
ZN50ZⅡ-D
Dynapac Coupling
110V
50/60Hz
1.45
2
2850
3450
17.5
410×270×360
ZN70ZⅡ-D
1.9
2.5
22.5
415×270×375
ZN50LHⅡ-D
Hayashi Coupling
110V
50/60Hz
1.45
2
2850
3450
17.5
410×270×360
ZN70LHⅡ-D
1.9
2.5
22.5
415×270×375
ZN50LMⅡ-D
Mikasa Coupling
110V
50/60Hz
1.45
2
2850
3450
17.5
410×270×360
ZN70LMⅡ-D
1.9
2.5
22.5
415×270×375
220V Single-phase electric motor
Model
Coupling Type
Voltage
Frequency
Power (kW)
Power (Hp)
Speed under 50Hz(rpm)
Speed under 60Hz(rpm)
Weight (kg)
Dimensions L×W×H(mm)
ZN50-D
A-VIBRAS Coupling B
220V
50/60Hz
1.45
2
2850
3450
14kg
335×220×275
ZN50DSC
220V
50/60Hz
1.6
2.2
4000
4000
7 kg
390×208×208
ZN70-D
220V
50/60Hz
1.9
2.5
2850
3450
22kg
430×240×325
ZN50A-D
A-VIBRAS Coupling A
220V
50/60Hz
1.45
2
2850
3450
14Kg
380×220×275
ZN70A-D
50/60Hz
1.9
2.5
2850
3450
22kg
430×240×325
ZN50Z-D
Dynapac Coupling
220V
50/60Hz
1.45
2
2850
3450
14kg
380×220×275
ZN70Z-D
50/60Hz
1.9
2.5
2850
3450
22kg
465×240×325
ZN50LH-D
Hayashi Coupling
220V
50/60Hz
1.45
2
2850
3450
15kg
390×220×275
ZN70LH-D
50/60Hz
1.9
2.5
2850
3450
22kg
430×240×325
ZN50LM-D
Mikasa Coupling
220V
50/60Hz
1.45
2
2850
3450
15kg
395×220×275
ZN70LM-D
50/60Hz
1.9
2.5
2850
3450
22kg
430×240×325
Applicative Vibrator Head & Shaft