Gas Engine for Concrete Vibrator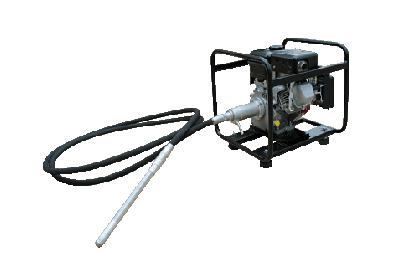 The gasoline engine driven concrete vibrator is a suitable alternative for sites wherever the electric current is unavailable. With a robust protective frame for extra durability, this gasoline engine coupled with vibrating poker head and flexible shaft is perfect to provide necessary performance needed for excellent compacting of concrete.
Note: Other couplings can be customized.
| | | | | | |
| --- | --- | --- | --- | --- | --- |
| Model | Power | Speed | Dimensions L×W×H(mm) | Weight | Coupling Type |
| ZRN168F | 5.5HP | 3600rpm | 362×380×335 | 26kg | A-VIBRAS Coupling B |
| ZRN168FA | 5.5HP | 3600rpm | 362×380×335 | 26kg | A-VIBRAS Coupling A |
| ZRN168FZ | 5.5HP | 3600rpm | 362×380×335 | 26kg | Dynapac Coupling |
| ZRN168FLH | 5.5HP | 3600rpm | 362×380×335 | 26kg | Hayashi Coupling |
| ZRN168FLM | 5.5HP | 3600rpm | 362×380×335 | 26kg | Mikasa Coupling |
Applicative Vibrator Head & Shaft