Pneumatic Concrete Vibrator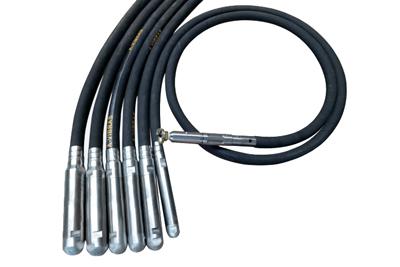 The pneumatic concrete vibrator is designed for concrete construction by connecting through a quick coupling to air compressor.
The pneumatic concrete vibrator is entirely sealed, including vibrating poker head and flexible hose. The air compressor is adopted as an air supply to provide compressed air. The air gets into vibrating poker head through the flexible hose to complete vibration of poker head at a high frequency.
Because the vibrating poker head uses compressed air as its power source, there is no potential hazards caused by electrical power. As a result, this concrete vibrator is especially suitable for some occasions have explosion-proof requirements.
We can provide pneumatic vibrating poker heads of diameters of 40mm, 50mm and 60mm with flexible hoses. You can connect them directly to the air compressor. There are two small tubes in the flexible hose, one for intake and the other for exhaust.
Model
Poker head diameter (mm)
Poker head length (mm)
Vibrating frequency
Amplitude (total value) (mm)
Amplitude (half value) (mm)
Centrifugal force (N)
Air consumption (L/min)
Performance (m3/h)
Weight (kg)
(Hz)
(vpm)
PNV40
40
300
316
19000
2.4
1.2
2250
500
14
7.5
PNV50
50
310
300
18000
3
1.5
4000
600
22
9.5
PNV60
60
310
283
17000
4
2
7000
750
27
10.5